VIRUS/g4zyknm7.php?id=16345">
Last Flight Limited Edition Flown Prints

Print No 280 BUCCANEER S2B XX900 (Camo)
208 Squadron RAF Lossiemouth.
(Size 11½" x 17¼")

Limited to ONLY 500 signed & flown

500 SQUADRON PRINTS of BUCCANEER XX900 were flown onboard
the final flight of BUCCANEER XX900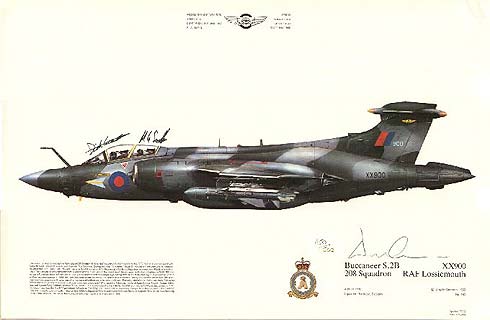 Displaying the Sqn crest and markings of 208 (the very last Buccaneer) Sqn.
This print featuring XX900, illustrates the 'Buccs' primary role and weapon,
the anti-shipping BAe Sea Eagle.


The final flight was on the 6th April 1994 and was from RAF. Lossiemouth Scotland, to RAF St Athan in Wales.
With pilot Flt Lt Dick Catterall and navigator Sqn Ldr Mike Scarffe (a Gulf War veteran) at the controls. '900', c/s Pirate 2, as part of a four-ship thundered down the impressive 9000ft Lossiemouth runway, getting airborne at 0905 hrs.
Remaining extremely low along the full length of the runway, she made a classic Buccaneer take-off, climbing away whilst pulling 'g' to join up with the rest of the package over the North Sea.

Once together, the four Buccaneers carried out what can only be described as an 'awesome' airfield attack of their base.
They came in from all directions in a way only a Buccaneer should... Extremely fast and at zero feet, to pay their final tribute to what had been their home for so many years. Then disappearing as quickly as they had arrived, the 'Buccs' were gone. Leaving in their wake only the sound of vortices 'whipping' across the airfield, along with the smiles and a long lasting memory for the many people gathered to watch the final departures.

Following their salute to Lossiemouth, the Buccaneers spilt to continue their own individual pre-briefed flight plans, to say 'goodbye' to various RAF stations around the country. XX900 joined by XX901 flown by F/O Andrew Cullen and Flt Lt Gary Bremer in true RAF tradition, carried out low-level airfield attacks at RAF Valley and RAF Cosford, giving Air Traffic their final view (and one that they had become familiar with over the years) of a Buccaneer inbound, fast and low.

Climbing away after this spectacular display, XX900 and XX901 joining up with XX895 and XX899, then made a prior engagement to fly through the A-5 pass in the Snowdonia mountain ranges, for a pre-briefed photo shoot with photographer Andrew Brooks, to capture in flight, the three aircraft for the last time. (The photographs from this flypast have been printed in various magazines and can also be viewed on the right hand side of this page. The print of XX900 is included in this package).

After this incredible display of airmanship weaving through the hazardous peaks of Snowdon. The four Buccaneers re-grouped for the last time to make their final airfield attack at RAF St Athan. The large crowd already gathered, had waited with eager anticipation for what the experienced amongst them had described as "worth watching," were not left disappointed. As once again they gave another stunning performance, leaving no doubt in anyone's mind of the 'Buccs' formidable capabilities. Even at this, their 'final hour', it surely gave credibility to a saying that has been heard many times over the years in the Officers Mess at Lossiemouth.


" THE ONLY REPLACEMENT FOR A BUCCANEER..
IS A BUCCANEER!"

XX901 Seen here on her last ever flight 6 April 1994, flying through the Snowdonia Mountain Range, Wales. Flown by F/O Ned Cullen and Flt Lt Gary Bremer.

XX899 Seen here on her last ever flight 6 April 1994, flying through the Snowdonia Mountain Range, Wales.Flown By Sqn John Fraser (Fras) and Flt Lt Ewan Fraser

XX900 Seen here on last ever flight 6 April 1994, flying through the Snowdonia Mountain Range, Wales.
Flown by Flt Lt Dick Catterall and Sqn Ldr Mike Scarffe.
(This photograph is included with the package)
A friendly voice over the radio brought with it the confirmation "cleared to land", and following this call, the jets, equally spaced, turned inbound towards the airfield. Wheels down and locked, XX900 on her last ever approach to land touched the runway second of the four at 1055 hrs.

As XX900 shut down her Rolls Royce Spey engines the two crew opened the huge canopy for a welcome blast of fresh air.
A very memorable moment for Squadron Ldr Mike Scarffe, as this was his last ever flight in a Buccaneer. An aircraft that had taken him to war and had brought him safely home. A very proud man with a very proud aircraft. To mark the occasion, a photograph was taken of him shortly after the flight beside the 'Bucc' holding the Limited Edition Squadron Prints. (See left - This photograph is also included in this package).
FAREWELL BUCCANEER
Each one of these specially packaged collectors items comes with...
AN XX900 Sqn Print flown onboard the final flight of XX900
on 6TH April 1994 Signed by the Aircrew who flew the Final Flight
FLT LT DICK CATTERALL and SQN LDR MIKE SCARFFE

A special Farewell Buccaneer Certificate of Authenticity
Signed and Numbered by the Aircrew who flew the Final Flight
FLT LT DICK CATTERALL and SQN LDR MIKE SCARFFE

A copy of the Original Authorisation Sheet
(Flight Plan), from the flight.
A Photograph of SQN LDR SCARFFE standing beside XX900 shortly after
landing holding the Flown Prints, (his last 'bucc' flight).
(see above)
The well known photograph taken by Andrew Brooks of XX900 flying through the
Snowdonia Mountains on her Last Ever Flight with the prints onboard

Please note: There are still a few left also signed by the artist, Dugald Cameron at £25.00
Blackburn Buccaneer Sqn Print XX900

Print size: 11½" x 17¼"
| | |
| --- | --- |
| Flown and Signed by Dick Catterall and Mike Scarffe | Price: £20.00 |
| Also by Artist Dugald Cameron | Price: £25.00 |

If YOU have ever been connected with the Buccaneer
or have anything to contribute to the site in way of tales, stories etc then
PLEASE email me, Andrew
Also if you are ex aircrew, we can put you in touch with the BAA
(Buccaneer Aircrew Association)
Enjoy your tour and please, if you have any questions at all, PLEASE just ask away!
We are here to help you find what you are looking for!
e-mail:info@avcollect.com