The Last VALIANT XD818 'The H-bomb Dropper'
by Michael Rondot

The final print in Michael Rondot's V-Bomber Triology, published to commemorate the
50th Anniversary of the first flight.
Signed by Vickers' Chief Designer and two famous Valiant pilots.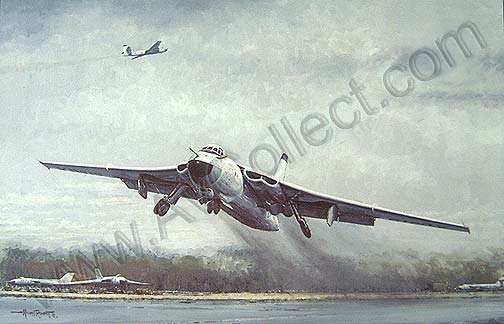 The Last VALIANT XD818 'The H-bomb Dropper'
by Michael Rondot
The Vickers Valiant was the first four jet bomber of Britains Cold War nuclear strike V-Force
who's Valiants, Victors and Vulcans, painted in distinctive anti-flash white,
were a familiar sight in the 1950's & 1960's.
Widely regarded as the best looking V Bomber and the nicest to fly, the Valiant equipped nine Squadrons during its brief career from 1955 to 1964, dropping bombs in anger during the Suez crisis and Britain's first atomic and hydrogen bombs.

In the eagerly awaited final print of his V-Bomber Trilogy, Michael Rondot has brilliantly portrayed a Valiant taking off with black smoke pouring from its four Avon engines against a backdrop of a typical V-Force dispersal airfield.
The aircraft is XD818, the H-bomb dropper, now displayed at the RAF Museum, Hendon
as the last surviving example of Sir George Edwards's classic design.

We are honoured to have one of the legends of British aviation history
as a signatory to this edition.
In a unique tribute to a great aircraft and to support the RAF Museum,
each copy has been signed by the Chief Designer and by two distinguished WWII bomber pilots and Valiant Squadron Commanders.
THE SIGNATORIES
Sir George Edwards OM CBE FRS.
George Edwards joined Vickers in 1935 working with Barnes Wallace on the Wellington and Warwick before becoming Chief Designer in 1945. At Vickers, he led the design team for the Valiant, Viscount and VC-10 and later, as Chairman, British Aircraft Corporation, he led the BAC-111, TSR2 and Concorde projects.
A keen aviator since 1948, he learnt to fly in a Tiger Moth to better communicate with his company test pilots and flew in all his subsequent designs, culminating with a Mach:2 flight in Concorde with Brian Trubshaw in 1971.
He is one of the most esteemed and successful industrial leaders and engineers in aviation history with numerous honours and awards to mark his many achievements .


Marshall of The Royal Air Force, Sir Michael Beetham, GCB CBE DFC AFC.
Michael Beetham joined the RAF in 1941 and flew Lancasters in Bomber Command during WWII. He was awarded the DFC for operations with No 50 Sqn and after the war continued to fly Lancasters with No 82 (PR) Sqn. He commanded No 214 Sqn,, which led Valiant air -refueling tanker development and later with Bomber Command he flew Victor and Vulcan. During his distinguished career he took every opportunity to fly the numerous types within his command, ranging from live bombing of rebel positions in Aden from a Shackleton in 1965 to the Jaguar and Tornado in the 1980's. He is President of the Bomber Command Association and was for 18 years Chairman of the Trustees of the RAF Museum.


Group Captain Ken Hubbard, OBE DFC AFC.
On 15 May 1957 Valiant XD818 captained by Wg Cdr Ken Hubbard, OC No 49 Sqn, dropped Britain's first H-bomb at Christmas Island in the South Pacific. Awarded the DFC during WWII whilst flying Wellington bombers in Italy with No 70 Sqn, he later flew Liberators and commanded No 104 Sqn with Lancasters. He commanded RAF Scampton during the height of the V-Force build-up with the Blue Steel equipped Vulcan B2s and has flown numerous types including the Victor and Vulcan.
The Last VALIANT XD818 'The H-bomb Dropper'
by Michael Rondot
Print size: 27 x 20ins approx
Primary
Edition size: 500
Price: £75.00
Artist Proof
Edition size: 50
Price: £120.00
Remarque
Edition size:
Price: £235.00

PRINT TERMINOLOGY - see below

print to guarantee the total edition size and authenticity.


All major credit cards are accepted with delivery taking usually
5-7 days for Europe and 7-10 days for the rest of the World.


Back to the Aviation Art of Michael Rondot

Other V Bomber Prints